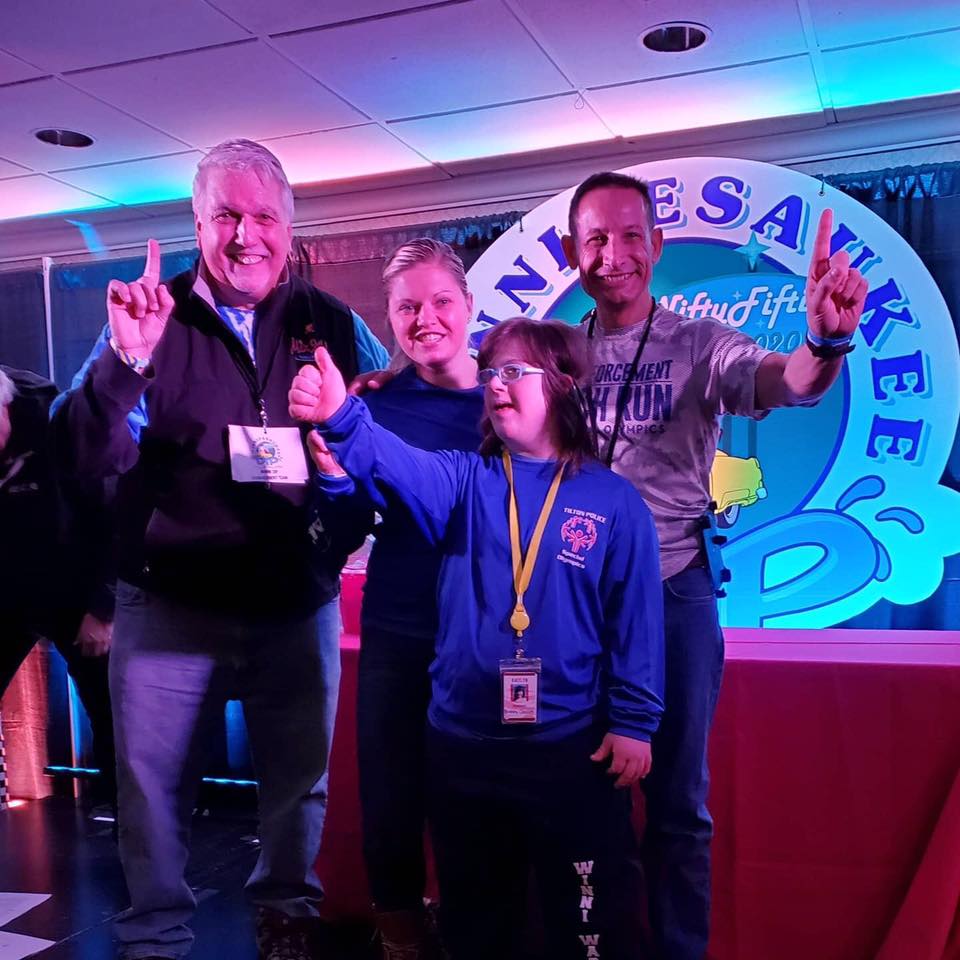 TILTON PD'S ELIZABETH MURRAY RAISED THE MOST MONEY FOR THE SONH WINNI DIP!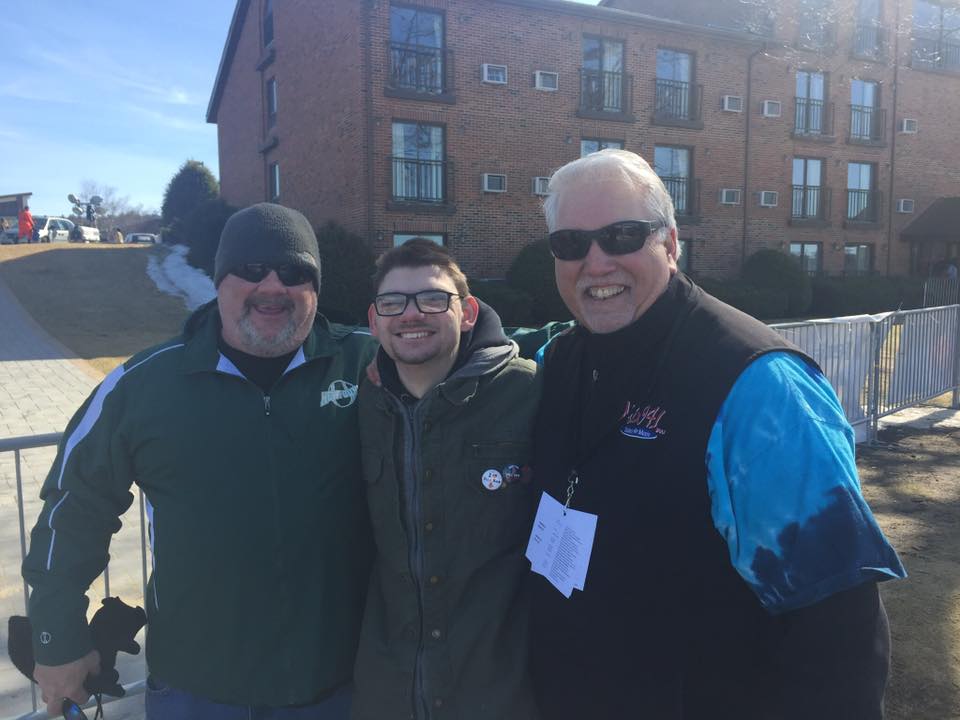 DARRIN, NATHAN AND FRED AT SPECIAL OLYMPICS NH WINNI DIP!
2020-ALL MASKED UP AND READY TO GO!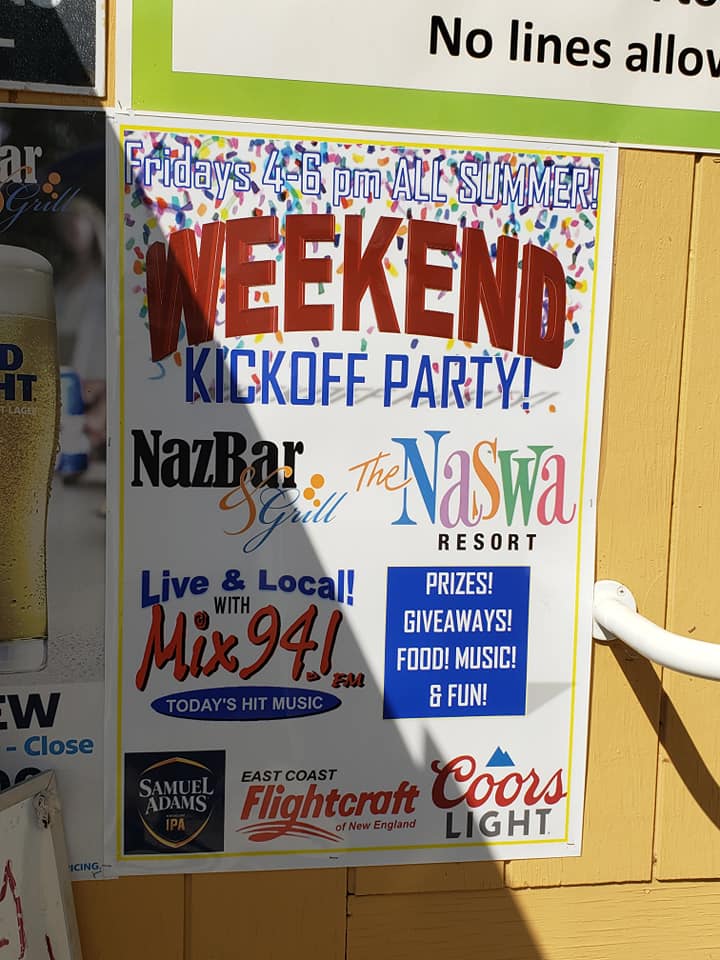 THE WEEKEND KICKOFF PARTY-ALWAYS A HUGE HIT!
MIX SUPPORTED DAIRY QUEEN LACONIA'S ANNUAL MIRACLE TREAT DAY FOR BOSTON'S CHILDREN HOSPITAL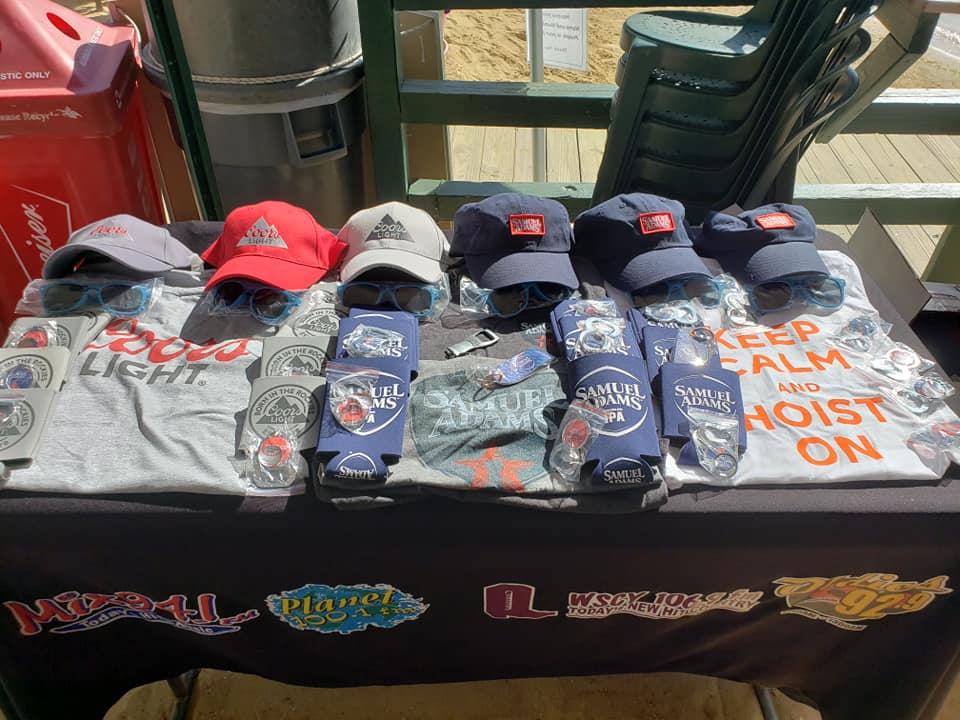 WEEKEND KICKOFF PARTIES ALL SUMMER AT THE NASWA WERE AWESOME!
STAR MURPHY WON A $594.00 GROCERY GIFT CARD FROM VISTA FOODS!
LISA MCHUGH ENJOYING THE FRANKLIN LIONS CLUB REN FAIRE!
MOWER WITH THREE HOLES-IN-ONE!
16TH ANNUAL SAVING ANIMALS INDOOR TRIATHLON AT FUNSPOT!
We had a great time at the 16th annual Indoor Triathlon at FUNSPOT! Despite being postponed from March amid the pandemic, teams still raised over $32,000 for Funds 4 Paws, the non-profit benefiting organizations in the humane treatment of animals. Thanks to all who participated! The Union Diner Dogs were the overall winners of the competition and a great time was had by in a safe, fun atmosphere! Our team, LOST PAWS with Lisa, Joyce, Mower, Fred and Super Sub Chris, finished seventh overall. Mower was on fire in mini golf, sinking three holes-in-one in a row! And Fred took the top overall score in skee ball!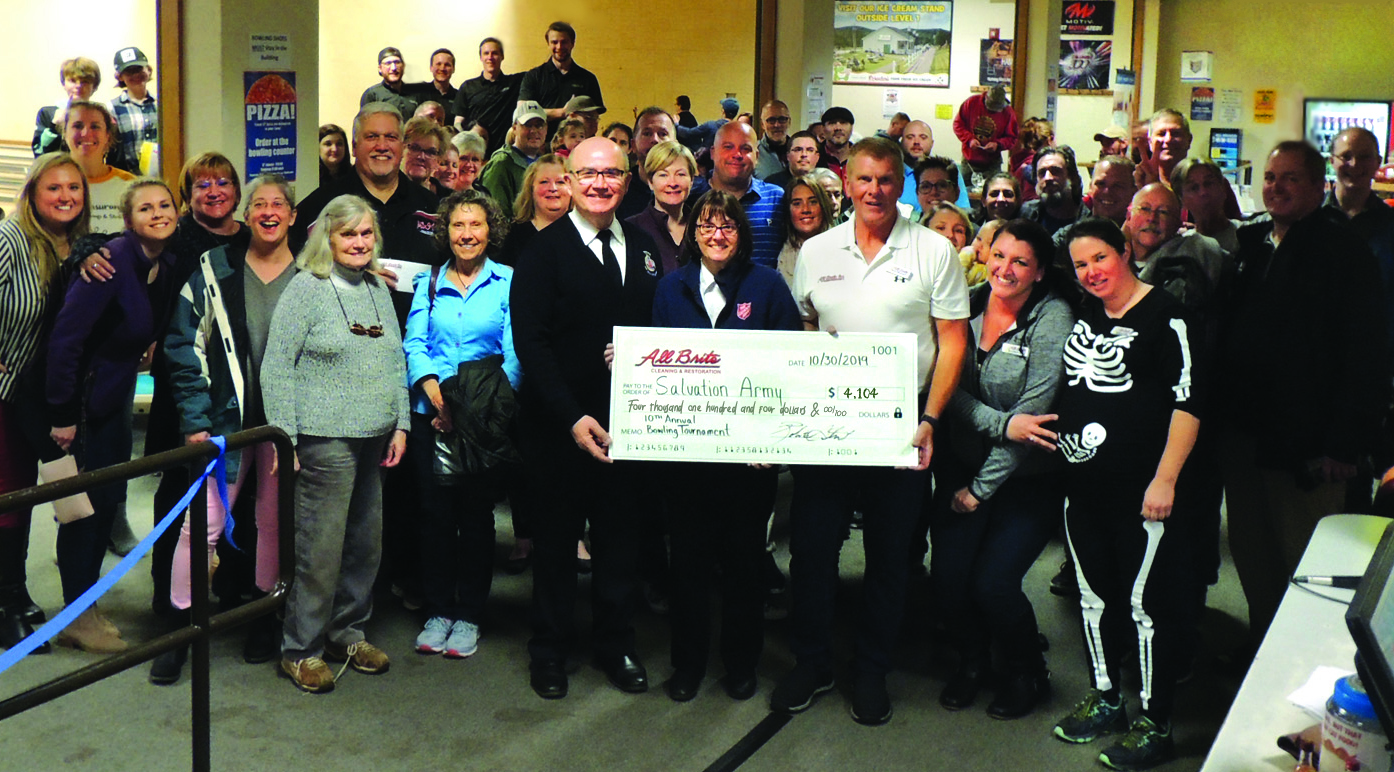 ALL BRITE BOWLING TOURNAMENT
Gilford, NH — On October 30, 2019, All Brite Cleaning & Restoration will held their 10th annual Bowling Tournament to benefit the Salvation Army. The event was held at Funspot in Laconia and was supported by area businesses and bowling teams. In celebration of the 10th annual event, new features were added in hopes to increase the annual donation amount. The efforts paid off for the fundraiser, nearly doubling the annual donation amount with a 2019 total of $4,104. Mix 94.1 morning hosts Fred and Amy played in the tournament, and to build awareness, they engaged their listeners to bid for the chance to play with them.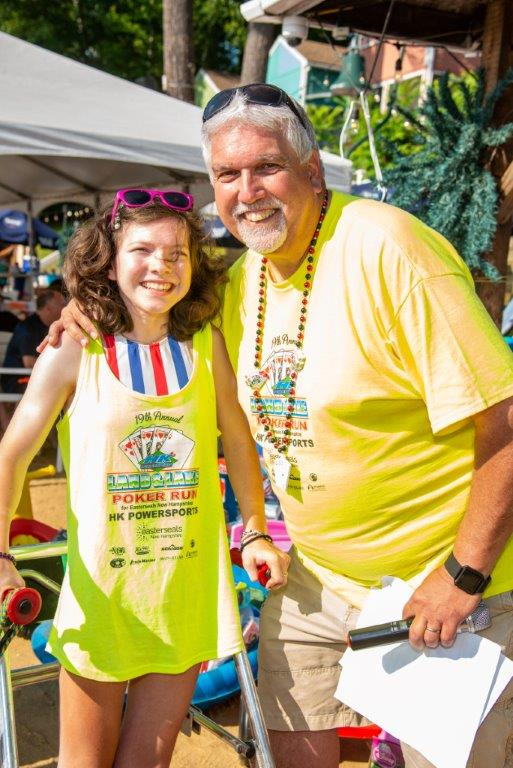 EASTER SEALS LAND AND LAKE POKER RUN
19TH ANNUAL HK POWERSPORTS LAND & LAKE POKER RUN TO BENEFIT EASTER SEALS NH!
What a day! Picture-perfect to raise well over $100,000 dollars for Easterseals New Hampshire!
AMY BATES MINI GOLF SKILLS AT INDOOR TRI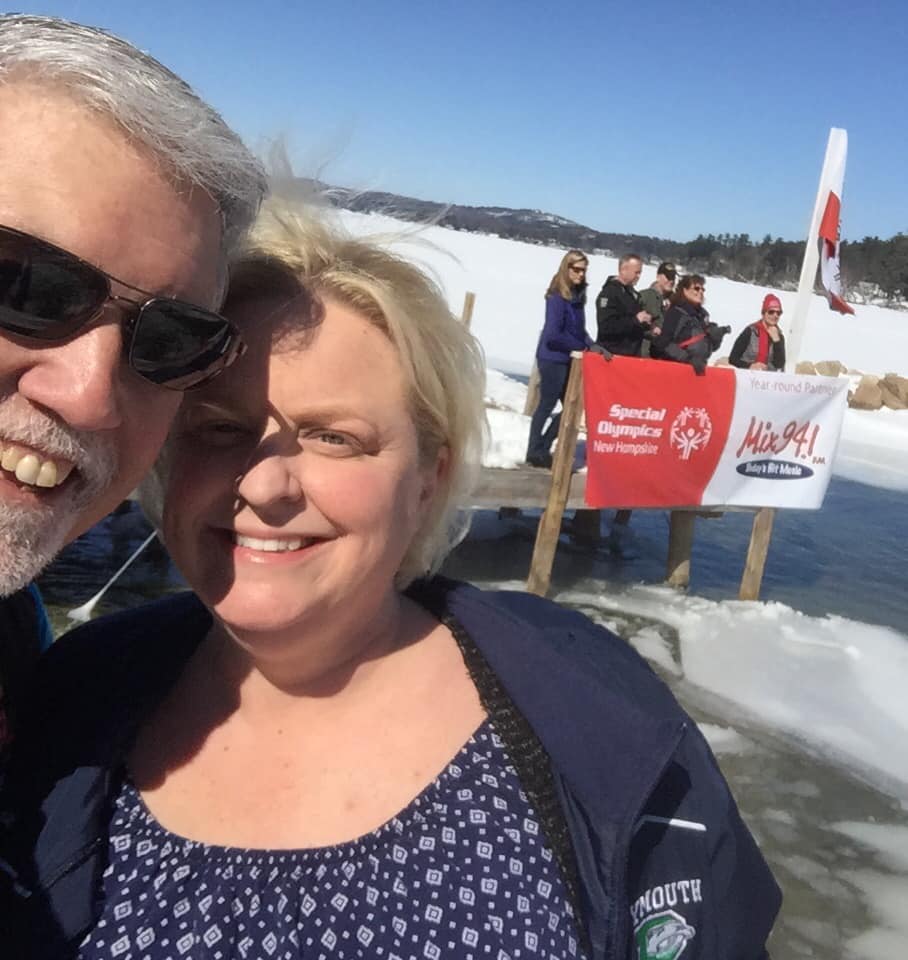 SPECIAL OLYMPICS DIPS!
Thanks to all NH Law Enforcement and area schools who took part in this year's Winni Dip at The Margate in Laconia Saturday March 9th-over $93,000 was raised! We were so happy to take part-see you next year!


MIX CASH & CANS HAS RECORD YEAR
It was another record year for our 32nd annual Mix 94.1fm Cash & Cans Money & Food Drive for the Holidays! $44,071.41 in cash and thousands of pounds off food were donated. Thanks to EVERYONE who stopped by to make a donation. Your generosity will help so many people in our area enjoy the holidays, and beyond! From the bottom of our hearts...thank you!! ~Fred, Amy and the Mix Crew.
TANGER WALK 2018
THANKS TO THE 850 WALKERS AND RUNNERS FOR MAKING THE TANGER FIT 5K A HUGE SUCCESS! WE'LL SEE YOU AGAIN NEXT YEAR! PROCEEDS BENEFITED LRGHEALTHCARE'S BREAST HEALTH PROGRAMS.

POKER RUN OVER $1 MILLION!
This number syays it all...over one million dollars raised during the 16-year history of the HK Powersports Land & Lake Poker Run to benefit Easter Seals NH in memory of Peter Makris. The Poker Run Committee is displaying the big number.
POKER RUN OVER ONE MILLION DOLLARS!
OVER $95,000.00 WAS RAISED WITH THIS YEAR'S HK POWERSPORTS LAND & LAKE POKER RUN TO BENEFIT EASTER SEALS NH BRINGING OUR 16-YEAR TOTAL WELL OVER THE ONE MILLION DOLLAR MARK!! THANKS TO EVERYONE WHO TURNED OUT IN LESS THAN IDEAL CONDITIONS TO MAKE THIS THE BIGGEST AND BEST POKER RUN EVER!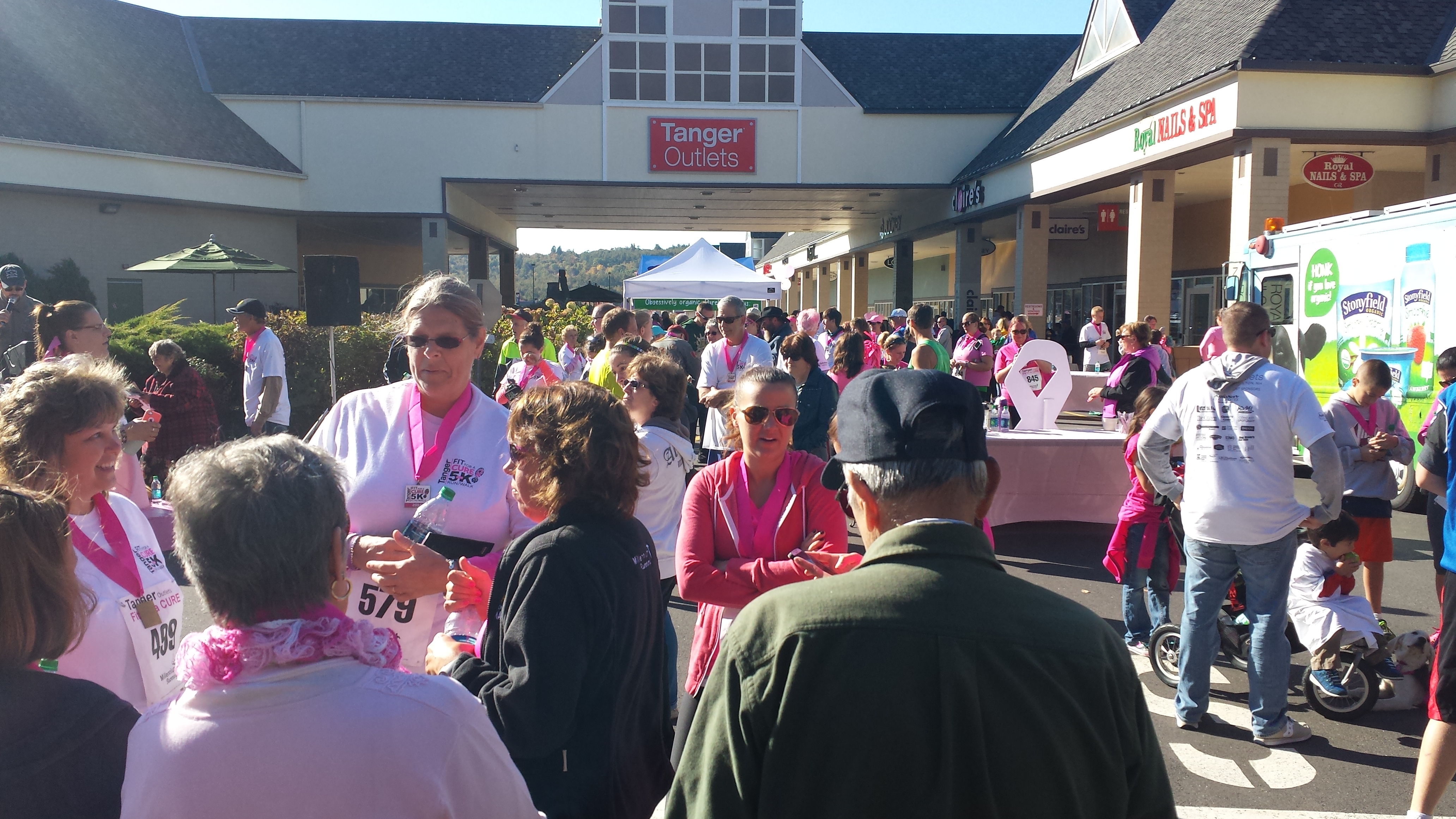 TANGER 5K RUN/WALK
Mix 94.1fm is a proud sponsor of the Tanger 5K Run/Walk to benefit LRGHealthcare's Breast Cancer Awareness Initiatives. This year's walk was the biggest ever, with 1,002 official entrants. Thanks to all who took part and raised thousands of dollars in the fight against breast cancer!
FRED & AMY AT HARLEM SUPERSTARS FUNDRAISER
Mix 94.1fm's Fred & Amy, with RazzMaTazz of the Harlem Superstars following a benefit basketball game at the Franklin Middle School for the Franklin High School Booster Club. The Mix Morning Show co-hosts was part of the Franklin Area All Stars, whose goal was to stay within 50 points of the Superstars. They lost by 48...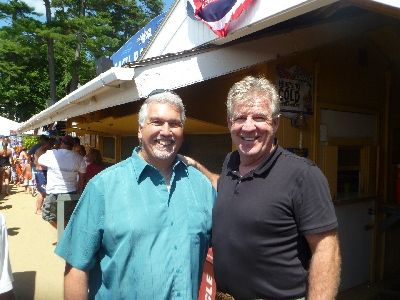 Boston Bruin great Terry O'Reilly
Look who Mix 94.1fm's Fred Caruso found in the house-
former Boston Bruin great Terry O'Reilly!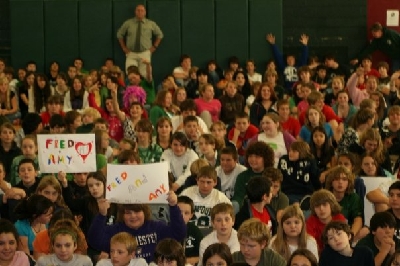 Thanks for all the fanfare!
Signs, signs, everywhere a sign! Thanks for all the fanfare!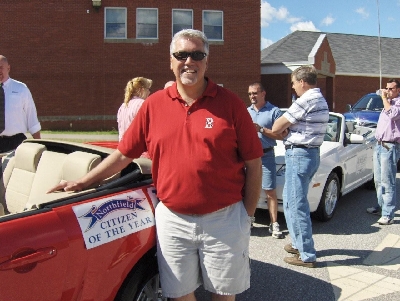 Mix 94.1fm's Fred Caruso was named the Northfield Citizen of the Year at the annual Old Home Day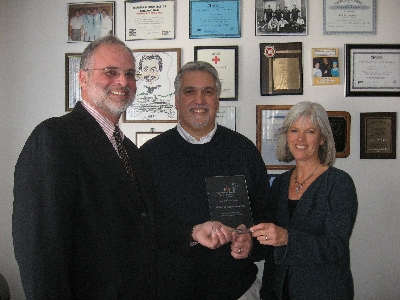 Mix 94.1fm was honored by the Partnership for a Drug Free America and the Partnership for a Drug Free New Hampshire
Mix 94.1fm was honored by the Partnership for a Drug Free America and the Partnership for a Drug Free New Hampshire with an award for creating public awareness and helping keep New Hampshire drug-free. Steve Cline, Deputy Director Field Operations on the national level and New Hampshire state coordinator Nancy Jackson-Reno present Mix 94.1fm's Fred Caruso with the crystal award. Mix 94.1fm was one of only two radio stations in the entire state to receive the award. To find out more on how you can help visit DrugFree.org.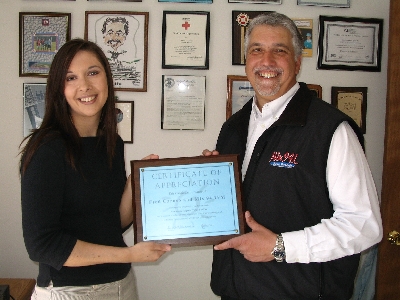 CORE Coalition of Belknap County Award
Mix 94.1fm's Fred Caruso accepts an award from Shannon Swett of the CORE Coalition of Belknap County and the Lakes Region for public service announcements to help combat teenage drinking and alcohol abuse in Central NH.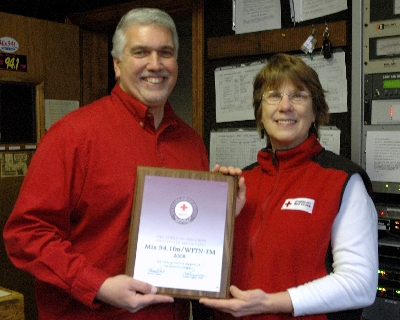 Plaque of appreciation from Granite Chapter of the American Red Cross
Becky Field, Director of Communications for the Granite Chapter of the American Red Cross, presented Mix 94.1fm Operations Director Fred Caruso with a plaque of appreciation for the generous amount of air time the radio station has devoted to promoting the local chapter of the Red Cross. To make a contribution, call 1-800 464-6692 or visit online at Red Cross.org.