Mix 94.1 fm's Weekly Top 40
Jul. 13, 2019
1
. Khalid - Talk
2
. Jonas Brothers - Sucker
3
. Ed Sheeran & Justin Bieber – I Don't Care
4
. Billie Eilish – bad guy
5
. Shawn Mendes – If I Can't Have You
6
. Panic! At The Disco – Hey Look Ma, I Made It
7
. Jonas Brothers - Cool
8
. Taylor Swift – You Need to Calm Down
9
. Halsey - Nightmare
10
. Ed Sheeran Feat. Chance The Rapper & PnB Rck – Cross Me
11
. Katy Perry – Never Really Over
12
. 5 Seconds Of Summer - Easier
13
. Bryce Vine – La La Land
14
. Lizzo – Truth Hurts
15
. Dan + Shay - Speechless
16
. Shawn Mendes & Camila Cabello - Senorita
17
. Travis Scott Feat. The Weeknd – Wake Up
18
. A Boogie Wit A Hoodie – Look Back At It
19
. Max Feat. Quinn XCII – Love Me Less
20
. DJ Khaled Feat. SZA – Just Us
21
. Chainsmokers Feat. BeBe Rexha – Call You Mine
22
. Lewis Capaldi – Someone I Loved
23
. Martin Garrix Feat. Macklemore & Patrick Stump – Summer Days
24
. twenty one pilots - Chlorine
25
. Bazzi - Paradise
26
. Post Malone – Wow.
27
. Lil Nas X – Old Town Road
28
. Mark Ronson Feat. Miley Cyrus – Find U Again
29
. Shaed - Trampoline
30
. Pink – Walk Me Home
31
. Miley Cyrus – Mother's Daughter
32
. Ed Sheeran Feat. Khalid – Beautiful People
33
. Post Malone Feat. Young Thug - Goodbyes
34
. Ally Brooke Feat. A Boogie Wit Da Hoodie – Lips Don't Lie
35
. Jonas Brothers – Only Human
36
. City girls – Act Up
37
. Lumineers - Gloria
38
. Da Baby - Suge
39
. Lil Baby – Close Friends
40
. Head & The Heart - Missed Connection
Play list compiled by Mix 94.1fm Music Director Gary Ford. For more information call 1-888-941-1069 or email
gary@mix941fm.com
.
T-Bones/Cactus Jack's
Mix Pix @Noon!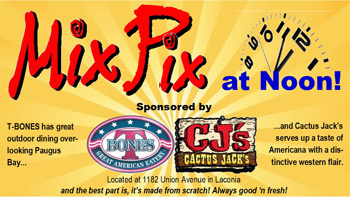 You get to pick the Mix with Mix Pix at Noon, powered by T-BONES and Cactus Jack's in Laconia, every weekday on Mix 94.1fm! Call in or email your requests to
lisa@mix941fm.com
. We'll also get you qualified to win our weekly T-BONES and Cactus Jack's gift certificate. Lisa gives it away every Friday! T-BONES has great outdoor dining overlooking Paugus Bay and Cactus Jack's serves up a taste of Americana with a distinctive western flair…and the best part is, it's all made from scratch! 1182 Union Avenue, Laconia. Always Good 'N Fresh!
It's Party Playhouse, weekdays 7pm-Midnight! Join Jackson Blue as he broadcasts live from coast-to-coast! The hottest night time radio show in NH!
Join Kannon every Saturday & Sunday night at 7pm for the biggest party on the planet, Open House Party! Special guests and great prizes every weekend!