Mix 94.1 fm's Weekly Top 40
Dec. 3, 2022
1
. Doja Cat – Vegas
2
. Post Malone with Doja Cat – I Like You(A Happier Song)
3
. Steve Lacy – Bad Habit
4
. Onerepublic – I Ain't Worried
5
. David Guetta & BeBe Rexha – I'm Good(Blue)
6
. Elton John & Britney Spears – Hold Me Closer
7
. Harry Styles – Music For A Sushi Restaurant
8
. 8 Sam Smith & Kim Petras - Unholy
9
. Weeknd – Die For You
10
. Lil Nas X – Star Walkin'
11
. Jax – Victoria's Secret
12
. Stephen Sanchez – Until I Found You
13
. Morgan Wallen – Wasted On You
14
. Sia - Unstoppable
15
. Taylor Swift – Anti-Hero
16
. Lewis Capaldi – Forget Me
17
. Rosa Lin - Snap
18
. Yung Gravy – Betty(Get Money)
19
. Lizzo – 2 Be Loved(Am I Ready)
20
. JVKE – golden hour
21
. Beyonce – Cuff It
22
. Tate McRae – uh oh
23
. AJR – World's Smallest Violin
24
. Armani White – Billie Eilish
25
. Cheat Codes X Russell Dickerson – I Remember
26
. Joji – Glimpse Of Us
27
. Nicky Youre Feat. Dazy – Sunroof
28
. Harry Styles – As It Was
29
. DJ Khaled Feat. Drake & Lil Baby – Stayin' Alive
30
. Rihanna – Lift Me Up
31
. Chris Brown – Under The Influence
32
. Rema & Selena Gomez – Calm Down
33
. Post Malone – Wrapped Around Your Finger
34
. Taylor Swift – Lavender Blue
35
. Panic! At The Disco – Don't Let The Light Go Out
36
. Nicki Minaj – Super Freaky Girl
37
. 37 Drake Feat. 21 Savage – Jimmy Cooks
38
. Blink-182 - Edging
39
. Gorillaz Feat. Thundercat – Cracker Island
40
. Burna Boy – Last Last
Play list compiled by Mix 94.1fm Music Director Gary Ford. For more information call 1-888-941-1069 or email
gary@mix941fm.com
.
MIX PIX AT NOON
You get to pick the Mix with 'Mix Pix at Noon' every weekday! Call in your requests at 934-2500, 524-7273, 934-5678 or 888-941-1069. Or e-quest your favorites to
tara@mix941fm.com
. It's powered by Cyr Lumber and Home Center and Cyr Kitchen and Bath, and T-Bones in Laconia & Concord and Cactus Jack's in Laconia. Qualify daily to win our Mix Pix Prize Pack every Friday!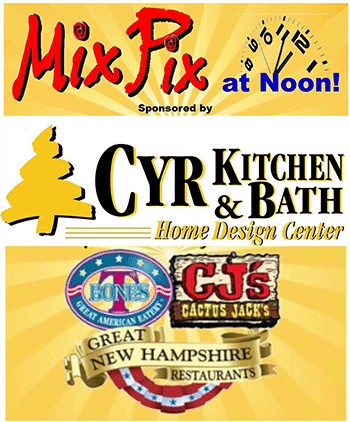 Liveline with Mason, every weeknight on Mix 94.1fm, 7-midnight! Requests, giveaways, throwbacks and more...and it's all LIVE! Get your requests on the air by calling or texting Mason at 85-LIVE-LINE!
Join Kannon every Saturday & Sunday night at 7pm for the biggest party on the planet, Open House Party! Special guests and great prizes every weekend!