Mix 94.1 fm's Weekly Top 40
Jan. 4, 2020
1
. Lizzo - Good As Hell
2
. Post Malone - Circles
3
. Selena Gomez – Lose You To Love You
4
. Maroon 5 - Memories
5
. Lil Nas X - Panini
6
. Tones & I – Dance Monkey
7
. Dan + Shay & Justin Bieber – 10,000 Hours
8
. Halsey - Graveyard
9
. Dua Lipa – Don't Stop Now
10
. Arizona Zervas - Roxanne
11
. Weeknd - Heartless
12
. blackbear – Hot Girl Bummer
13
. Niall Horan – Nice To Meet Ya
14
. 14 Harry Styles – Adore You
15
. 15 Billie eilish – everything i wanted
16
. 16 Ed Sheeran Feat. Camila Cabello & Cardi B – South Of The Border
17
. 17 Taylor Swift - Lover
18
. Ke$ha Feat. Big Freedia – Raising Hell
19
. 5 Seconds Of Summer - Teeth
20
. 20 Travis Scott- Highest In The Room
21
. 21 Zedd & Kehlani – Good Thing
22
. AJ Mitchell Feat. Ava Max – Slow Dance
23
. 23 Black Eyed Peas X J. Balvin – RITMO(Bad Boys For Life)
24
. Post Malone Feat. Ozzy Osbourne & Travis Scott – Take What You Want
25
. Public – Make You Mine
26
. 26 Shaed - Trampoline
27
. 27 Sam Smith – How Do You Sleep?
28
. BTS Feat. Lauv – Make It Right
29
. 29 Saweetie – My Type
30
. 30 Max. Feat. Chromeo - Checklist
31
. 31 Justin Bieber - Yummy
32
. 32 Louis Tomlinson – We Made It
33
. 33 Ant Saunders – Yellow Hearts
34
. 34 Camila Cabello Feat. DaBaby – My Oh My
35
. 35 Joji, Jackson Wang, Major Lazer Feat. Swae Lee - Walking
36
. Post Malone Feat. DaBaby - Enemies
37
. 38 Mustard Feat. Roddy Rich – Ballin'
38
. Coldplay - Orphans
39
. Meg Myers – Running Up That Hill
40
. 40 Billie Eilish – all the good girls go to hell
Play list compiled by Mix 94.1fm Music Director Gary Ford. For more information call 1-888-941-1069 or email
gary@mix941fm.com
.
T-Bones/Cactus Jack's
Mix Pix @Noon!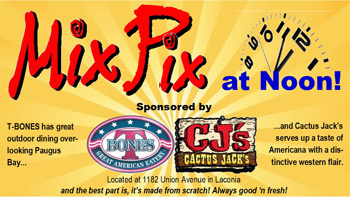 You get to pick the Mix with Mix Pix at Noon, powered by T-BONES and Cactus Jack's in Laconia, every weekday on Mix 94.1fm! Call in or email your requests to
lisa@mix941fm.com
. We'll also get you qualified to win our weekly T-BONES and Cactus Jack's gift certificate. Lisa gives it away every Friday! T-BONES has great outdoor dining overlooking Paugus Bay and Cactus Jack's serves up a taste of Americana with a distinctive western flair…and the best part is, it's all made from scratch! 1182 Union Avenue, Laconia. Always Good 'N Fresh!
It's Party Playhouse, weekdays 7pm-Midnight! Join Jackson Blue as he broadcasts live from coast-to-coast! The hottest night time radio show in NH!
Join Kannon every Saturday & Sunday night at 7pm for the biggest party on the planet, Open House Party! Special guests and great prizes every weekend!